Written by:
Tracey Lanter Eyster
Published by:
Tyndale
I am always interested in reading books on parenting despite the fact that I am not a parent, weird, I know.
Be the Mom
is about avoiding "mom traps" that keep you from being the best mom you can be.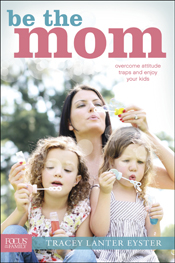 Who the book is for:
Moms, obviously, but I enjoyed reading it as well.
What I liked:
Wow. I really liked this book.
1. I was inspired by it. Tracey covered so many issues that I have seen come up in the lives of moms that I know, and she shares how she overcame them.
2. The way the book was written was interesting and easy to read.
3. The end of each chapter has a quiz that helps to see if the issue addressed is a problem in your life.
4. The cover is really eye catching.
5. Tracey includes some humor and just writes in a conversational way that makes it feel like she is your friend.
What I didn't like:
I really don't have any complaints.
My conclusion:
I really enjoyed and appreciated this book.
I give
Be the Mom
5 out of 5 stars, and I will definitely be saving it to read again if I ever become a mom.
I received this book free to review from the Tyndale Blog Network. The opinions expressed in this review are my true thoughts and feeling regarding this book. I am disclosing this information in accordance with the Federal Trade Commission's 16 CFR, Part 255.