Written by:
J. Mark Bertrand
Published by:
Bethany House
I like a good mystery book every now and then, especially when they have characters that interest me.
Nothing to Hide
is a book about a detective and a homicide case he is trying to solve, not going to share much more than that, as I don't want to share any spoilers.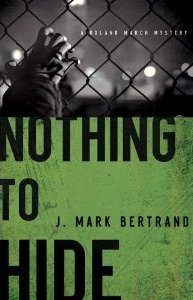 Who the book is for:
Unlike a lot of fiction books I read, I think this book would interest men as much as women.
What I liked:
I liked all the characters featured in this book.
Parts were a bit touching.
Parts were exciting.
Kept me guessing until the very end.
What I didn't like:
At times I had a hard time following what was going on, and remembering who each of the "bad guys" was.
There is nothing really "Christian" about this book.
My conclusion:
This was a decent read, but not the best book that I have ever read.
I give
Nothing to Hide
3 out of 5 stars.
I won't be keeping this book.***
*** From now on, if I remember, when I write reviews, I will share if they are a book that I will be adding to my select collection, or giving away, selling, etc..
I received this book free to review from Bethany House. The opinions expressed in this review are my true thoughts and feeling regarding this book. I am disclosing this information in accordance with the Federal Trade Commission's 16 CFR, Part 255.