Published by:
Northfield Publishing
Written by:
Rick Osborne and Gary Chapman
Illustrated by:
Wilson Williams Jr.
Knowing that my sister is a fan of the
5 Love Languages
book, I was excited to receive
A Perfect Pet for Peyton
to read and review and pass on to her children - my nieces and nephews.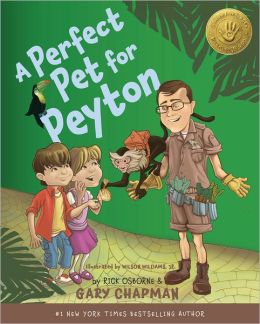 The story:
This book shares the story of twins who go to a special zoo to celebrate their birthday. At the zoo, they - and each guest - receive a special pet who shares their "love language".
The illustrations:
Aren't my favorite, but they are okay.
How strong is the book?
This is a nice and sturdy hardcover book.
Who the book is for:
I would recommend this book for ages four through eight, but older children could also understand it - and younger ones, too, with an adult's help.
What I liked:
This book helps children understand themselves and others better.
Through this book, parents will learn how to better love their children.
What I didn't like:
This story is a bit long…
My conclusion:
Overall, this is an informational read.
I give
A Perfect Pet for Peyton
5 out of 5 stars.
I received this book free to review from MP Newsroom. The opinions expressed in this review are my true thoughts and feeling regarding this book. I am disclosing this information in accordance with the Federal Trade Commission's 16 CFR, Part 255.