Written by:
Dr. William H. Marty
Published by:
Bethany House
I was very curious to check
The Jesus Story
out, as it tells the story of the New Testament in a modern way… and I wasn't disappointed.
I have to admit, I was a bit worried that this book would change things up really much, like really modernizing the Bible, but it really just simplifies things and shares stories in an, easy to read, way.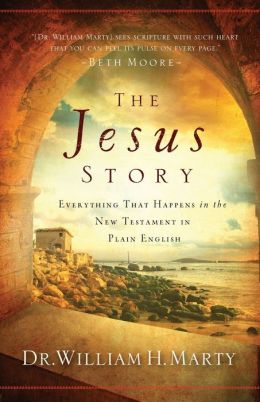 Who the book is for:
Christians who have already read the Bible and will continue to read it. It is a supplement, only… don't read it instead of reading God's Word.
What I liked:
It was nice to be able to quickly and easily read a version of the New Testament.
The size of this book was nice - as it was just like a novel, or anything… easy to hold and read.
What I didn't like:
This isn't so much something that I didn't like, but be warned that this book doesn't cover every single thing that the New Testament covers.
My conclusion:
Overall, this was a pretty good read and cool book for Christians.
I give
The Jesus Story
4 out of 5 stars.
I received this book free to review from Bethany House. The opinions expressed in this review are my true thoughts and feeling regarding this book. I am disclosing this information in accordance with the Federal Trade Commission's 16 CFR, Part 255.