Written by:
James McDonald
Published by:
Moody Publishers
I definitely had someone in mind when I first read about this
Come Home
. There is a "wanderer" who is very near and dear to me, and that is why I decided to give the book a read.
This book is about the "wanderer" or the prodigal, or whatever term you want to use. It is written for both that individual and the loved ones of him/her.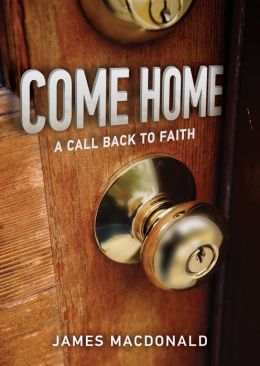 Who the book is for:
This book is for those who have a strong faith in God but are hurting for someone who they care about who has turned from that faith, or the one who has turned away. Readable for both teens and adults.
What I liked:
This book offers hope for those in my position.
I love the advice in the book not to argue the "wanderer" home.
This book encourages forgiveness and embracing the "wanderer" when they do come home.
There is just something about the overall size and feel of the book that I liked.
What I didn't like:
In the book, James mentions that abuse creates shame… he then goes on to say that the way to get freedom from shame is through repentance. Maybe I was the only one confused by the way he worded things, but it definitely could be interpreted to come to the conclusion that he thinks that you need to repent for abuse that was done to you. I am sure that wasn't James' intention, yet it came off wrong.
I didn't like the putdowns to those who are obese which are used in the book. "Did it ever occur to you that your obesity is injuring your spouse's capacity to be attracted to you?"
I felt that the book should have been written either for the "wanderer" or his/her family, rather than a little bit for both, it would have been much more effective that way.
My conclusion:
Overall, there was good and back in the book. Because of the two main problems that I found with it, though, I can't recommend it.
I give
Come Home
2 out of 5 stars.
I received this book free to review from MPNewsroom. The opinions expressed in this review are my true thoughts and feeling regarding this book. I am disclosing this information in accordance with the Federal Trade Commission's 16 CFR, Part 255.