Published by:
Revell
Written by:
Rob Elliot
My little nephew really enjoys jokes. He likes telling them and will laugh when he thinks he understands them. He was asking why the chicken crossed the road before he was two, and laughed at it without understanding why it was funny. At three, now, he still doesn't understand a whole lot… and I was hoping this book would have some that I could share with him.
The Big Book of Laugh-Out-Loud Jokes for Kids
is full of all kinds of simple jokes.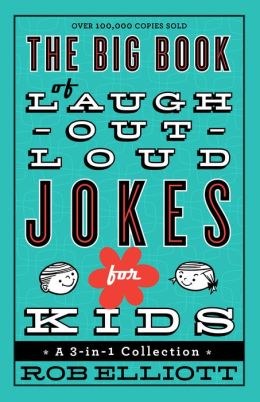 How strong is the book?
This is a paperback book and about as strong as the average paperback book.
Who the book is for:
I was disappointed to find that the jokes in this book won't really work for my little nephew. I would recommend this book for ages eight to eleven.
What I liked:
I like the cover of this book and the overall look.
I admit that a couple of the jokes did cause me to chuckle - even as an adult….
What I didn't like:
…while others just didn't make sense, and others made me moan.
Quite a few of the jokes are ones that I've heard a million times.
Some of the jokes wouldn't be understood by the targeted audience.
My conclusion:
Overall, this is a decent joke book for kids.
I give
The Big Book of Laugh-Out-Loud Jokes for Kids
4 out of 5 stars.
I received this book free to review from Revell. The opinions expressed in this review are my true thoughts and feeling regarding this book. I am disclosing this information in accordance with the Federal Trade Commission's 16 CFR, Part 255.