Written by: Susan May Warren

Published by: Tyndale

I really enjoyed the first 'a Christiansen Family novel', so I was excited to pick up this second in the series.

It Had to Be You is the story of Eden Christiansen, a woman who longs to be a reporter but is stuck doing obituaries. She focuses all of her time and energy on her little brother - a professional hockey player - and doesn't realize it until he is injured. Interwoven with this, is a love story and a story of a man's struggle with his daughter's health problems.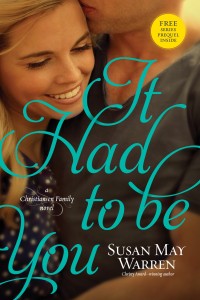 Who the book is for:

Those who enjoy reading from a series or reading a love story in general, particularly females.

What I liked:

I thought this book was unique and interesting.

I really liked the family dynamics in this book.

What I didn't like:

The chapters are a bit long for my tastes, but I am fussy in that regard.

My conclusion:

Overall, I enjoyed reading this book.

I give It Had to Be You 4 out of 5 stars.


I received this book free to review from Tyndale Blog Network. The opinions expressed in this review are my true thoughts and feeling regarding this book. I am disclosing this information in accordance with the Federal Trade Commission's 16 CFR, Part 255.