Written by: Jeannie Cunnion
Published by: Zondervan
I was planning on liking this book. I really thought that I was going to. There are so many Christian parenting books that demand perfection, and this one didn't…
…or so I thought.
Really, I found that this author appears to be a perfectionist, and Parenting the Wholehearted Child is about raising perfect little kids.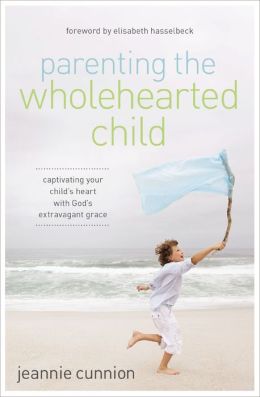 Who the book is for:
This book is meant to be for parents, but I enjoy reading parenting books as an auntie and writer.
What I liked:
I was really excited when I read in the beginning about how the author thought that we should encourage our children's relationship with Jesus – as that inspires them to obey – rather than just teaching our children to obey.
What I didn't like:
Don't understand or agree with the part that was anti-tattling. That is just lazy parenting in my mind. I could go off on a rant about this, but I won't.
The whole peacemaking chapter bothered me, as it was really about treating children unfairly.
Overall, Jeannie seems to correct her children for every little thing, and expects more from them than any adult expects from him/herself.
The part that completely ruined this book for me was the quote from Tedd Tripp. The quote, in and of itself, was not bad, but it was from the book that absolutely nauseates and disgusts me. That ruined any respect I had for this author.
The book also shared a quote from Dare to Discipline, another book that I strongly disagree with.
My conclusion:
Overall, this book is messed up.
I received this book free to review from Book Look. The opinions expressed in this review are my true thoughts and feeling regarding this book. I am disclosing this information in accordance with the Federal Trade Commission's 16 CFR, Part 255.